German Chancellor Angela Merkel has cancelled plans for a strict lockdown over Easter, just a day after the measures were announced.
Calling the plan a "mistake", Mrs Merkel said she took "ultimate responsibility" for the U-turn.
The proposed lockdown was agreed with regional leaders in talks overnight on Monday, with restrictions set to be tightened between 1-5 April.
But the plan was reversed following a crisis meeting on Wednesday.
It had been widely criticised by business leaders and scientists.
The lockdown would have been Germany's strictest yet, with most shops closed and gatherings limited.
For five days over Easter from 1 April, Germans would have been asked to stay at home and reduce social contact.
In-person religious services would have been cancelled, large family gatherings banned and almost all shops would have been closed.
The head of Mrs Merkel's Christian Democratic Union (CDU) party, Armin Laschet, told a regional parliament meeting on Wednesday that the lockdown was "not enforceable in this form".
"This mistake is mine alone," Mrs Merkel told reporters in Berlin. "The whole process has caused additional uncertainty, for which I ask all citizens to forgive me."
"There were good reasons for it but it could not be implemented well enough in this short time," she added.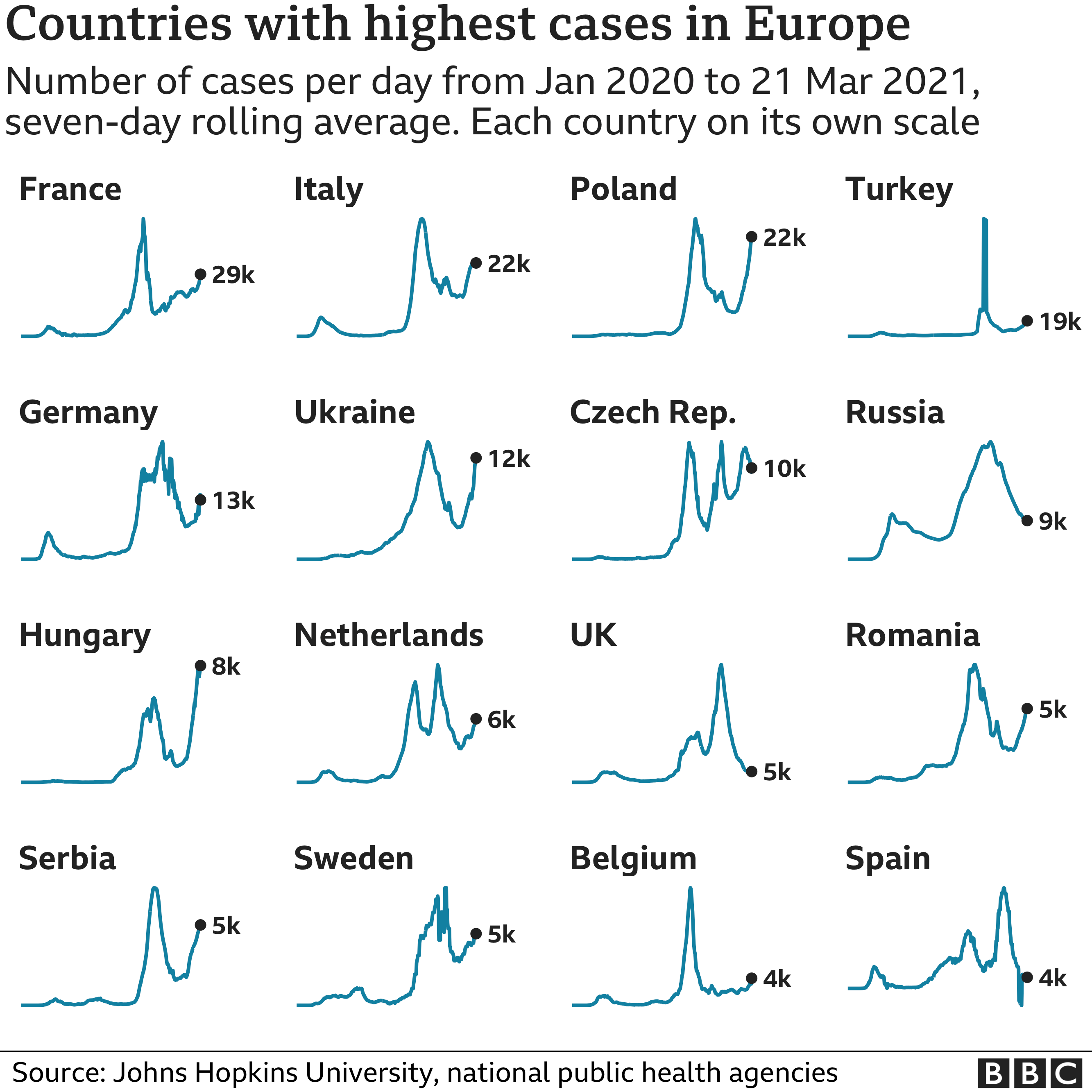 What's the situation in Germany?
"Essentially, we have a new virus," Chancellor Merkel said when announcing the now-cancelled Easter lockdown.
The highly contagious UK (Kent) variant of coronavirus had become dominant, she explained, plunging the country into "a new pandemic".
"It is much deadlier, much more infectious and infectious for much longer," she claimed, adding Germany was in a race against time to vaccinate against Covid-19.
The infection rate has risen above 100 per 100,000 inhabitants in Germany. That number is critical in determining emergency decisions such as tightening lockdowns. Under the current rules, areas exceeding that infection rate over a seven-day period will not be subject to further reopenings.
Why is the EU having vaccine problems?
But despite the numbers, the announcement of the five-day lockdown, and the subsequent ban on Easter church services, triggered dismay from religious leaders. They argued that their existing social-distancing measures made church attendance safe.
The Catholic German Bishops' Conference made clear that, following Wednesday's U-turn, its services would go ahead as planned with hygiene measures in place and video streams available to those who did not want to attend in person.
"With today's decision, a bit of reason is returning to coronavirus policy," the HDE association of retailers said in a statement.
The country's partial lockdown, meanwhile, has been extended until at least 18 April.
Coronavirus infections have been surging in some parts of Europe in recent weeks as countries scramble to vaccinate their populations despite delays in rolling out jabs.
The European Commission has proposed tougher controls on Covid vaccine exports. It has accused the UK-Swedish firm AstraZeneca of failing to honour its contract to supply EU countries.
The tougher export controls are most likely to affect countries that have higher vaccination rates than the EU, such as the UK and US.
Source: BBC