Germany and the US have warned they could target a key Russian gas pipeline if the country invades Ukraine.
A US state department spokesman said the Nord Stream 2 pipeline "will not move forward" if Russia were to attack.
The controversial energy project is designed to double gas flow and runs from Russia direct to Germany under the Baltic Sea.
It circumvents Ukraine, which relies on existing pipelines for income and is under threat from Russian forces.
Tens of thousands of Russian troops have massed on Ukraine's borders in recent weeks, prompting fears of an invasion – despite repeated Russian denials of any plan to attack.
On Wednesday the US rejected Russia's key demand to bar Ukraine from joining the Nato military alliance, while offering Moscow a "serious diplomatic path forward".
President Vladimir Putin is currently assessing the proposals, his spokesman said on Thursday.
Nord Stream 2 in focus
The 1,225km (760-mile) pipeline took five years to build and cost some $11bn (£8bn). But as yet it has not started operating, as regulators said in November it does not comply with German law and suspended its approval.
Speaking to broadcaster NPR, US state department spokesman Ned Price said his country would work with Germany to ensure the project did not go ahead if Russia invaded.
"I want to be very clear: if Russia invades Ukraine one way or another, Nord Stream 2 will not move forward," he said, but added that he was "not going to get into the specifics" of how it would be stopped.
Germany's foreign minister, Annalena Baerbock, later told the German parliament that Western allies are "working on a strong package of sanctions" covering aspects "including Nord Stream 2", promising serious consequences for Russia if it were to attack.
It came after the German ambassador to the US Emily Haber tweeted that "nothing will be off the table, including Nord Stream 2" if Russia violated "Ukraine's sovereignty".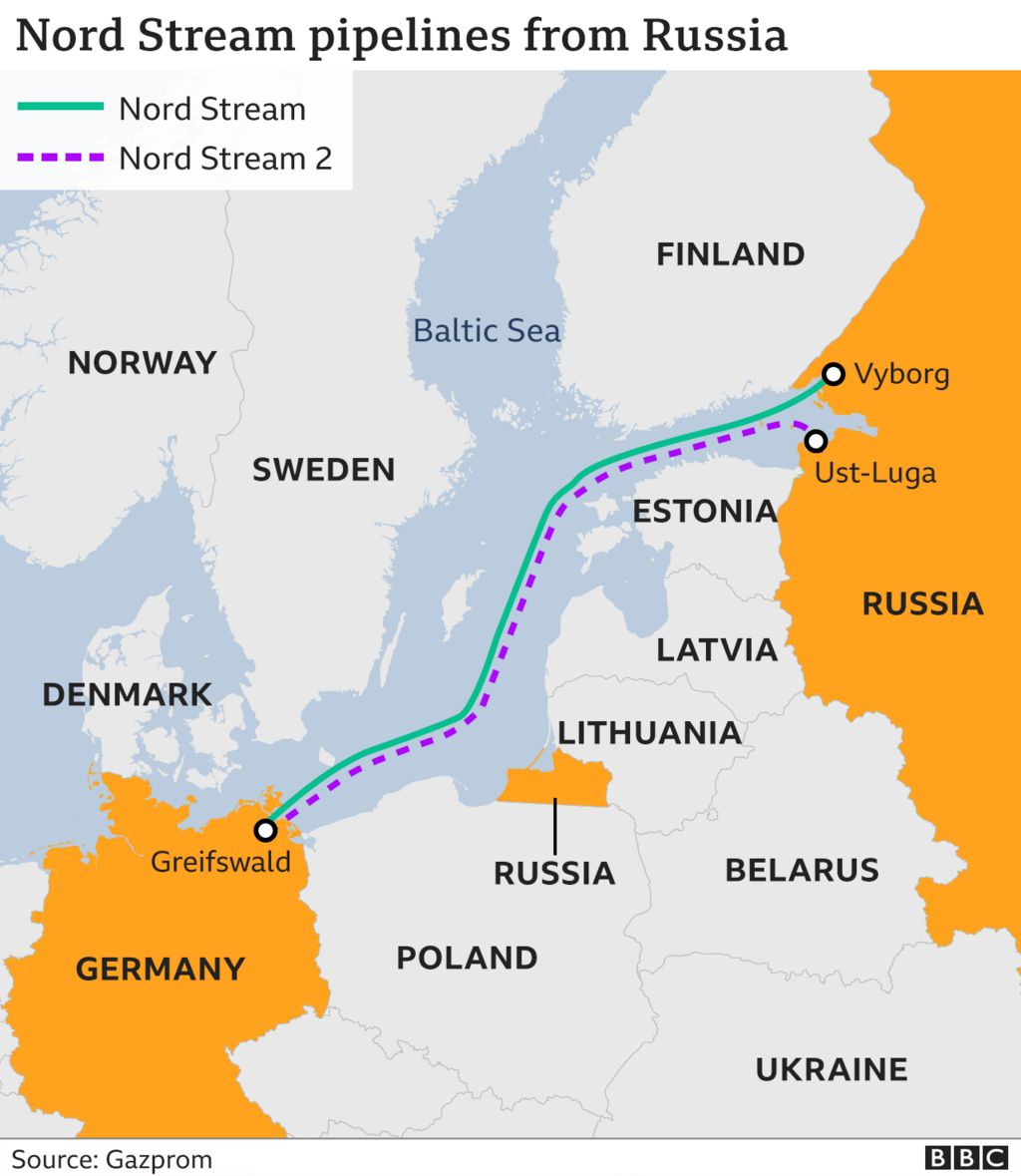 Major European businesses have invested heavily in Nord Stream 2, which is run by former Chancellor Gerhard Schröder.
Currently the German government believes that "natural gas will continue to make a significant contribution to energy supply in Germany over the coming decades", saying it is "more climate-friendly compared to other fossil fuels".
But many groups object to Nord Stream 2. Environmentalists question how it will fit in with German efforts to cut emissions and tackle man-made climate change, while politicians at home and abroad fear it could increase Europe's dependence on Russian energy – roughly half the EU's gas currently comes from Russia.
Ukrainian President Volodymyr Zelensky has previously described the pipeline as a "dangerous geopolitical weapon".
His country is currently facing some 100,000 Russian troops stationed on its borders, with growing fears that President Putin plans to launch an assault.
Diplomatic moves
Russia had issued a written list of its concerns about the expansion of Nato and related security issues. Among them was a demand for Nato to rule out the possibility of Ukraine and others ever joining the alliance.
On Wednesday, the US and Nato gave Russia a formal response to its demands to resolve the Ukraine crisis. It will not be made public, but US Secretary of State Antony Blinken said the document made their "core principles" clear, including Ukraine's sovereignty and its right to choose to be part of security alliances such as Nato.
Russia's foreign minister Sergei Lavrov said the formal response does not address Russia's "main concern" about the alliance's expansion. But he did say that it "gives hope for the start of a serious conversation" on secondary questions, adding that President Putin will decide how to respond.
An official from the Russian foreign ministry later said it was a priority "to reach a principled understanding" on nuclear weaponry, amid Russian concerns the US could deploy short and medium-range missiles within range of Russia. Nuclear missiles crises would be "unavoidable" otherwise, he said.
The president's spokesman Dmitry Peskov meanwhile told reporters Russia would take "time to analyse" the response.
Separately, diplomats from Russia, Ukraine, France and Germany reaffirmed a commitment to the long-standing ceasefire agreement in Ukraine, which had seen Russia-backed rebels seize territory in the eastern Donbas region.
All four nations continue to support the ceasefire "regardless of differences on other issues" related to the 2015 Minsk agreements, a statement published by the French presidency said.
The Kremlin's deputy chief of staff Dmitri Kozak characterised the eight-hour talks in Paris as "not simple", and the group is due to meet again in two weeks in Berlin.
Ukrainian foreign minister Dmytro Kuleba told reporters on Thursday that the Russian decision to come to talks in Berlin was "good news", as it means that "Russia for the next two weeks is likely to remain on the diplomatic track".
Source: BBC