The Minister of Lands and Natural Resources Samuel Abu Jinapor has disclosed that the Achimota Lands mentioned in the last Will of the late Chief Executive of the Forestry Commission Kwadwo Owusu Afriyie (Sir John) will not be given to the beneficiaries.
The Minister said this in a statement issued by the Ministry.
The statement comes after the Will of the late Sir John went viral on social media, with parts of it having the names of some persons allocated portions of lands of Achimota allocated to them by the late NPP former officer.
"I, as Minister for Lands & Natural Resources, have directed the Lands and Forestry Commission to deem any ownership of lands, both in the Achimota Forest and the Sakumono Ramsar Site by the late Kwadwo Owusu Afriyie as void."
"Further checks at the Lands and the Forestry Commissions, the repositories of the records of the lands in question, show no record of ownership of Lands at, the Achimota Forest or the Sakumono Ramsar Site, by the late Kwadwo Owusu Afriyie," the statement said.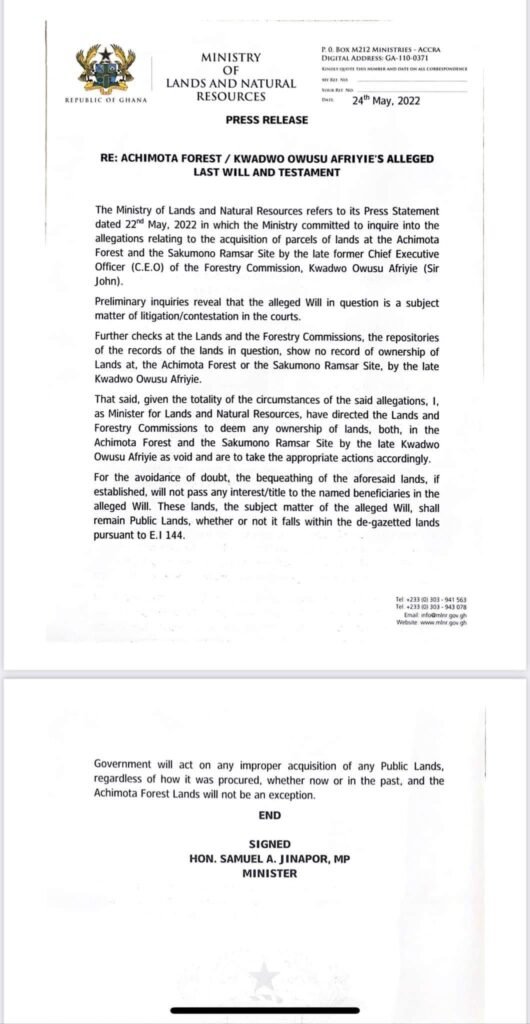 By: Rainbowradioonline.com/Ghana