Boris Johnson has "corrected" European Council President Charles Michel after he claimed the UK had imposed an "outright ban" on the export of Covid-19 vaccines.
Speaking at Prime Minister's Questions, Mr Johnson said the government had "not blocked" any sales to other countries.
Mr Michel had said his claim about the UK's position was based on "facts".
But the Foreign Office summoned an EU official to explain what it called the president's "incorrect assertions".
The argument over vaccine exports comes at a time when European leaders are under pressure over the slow distribution of jabs.
In the UK, meanwhile, more than 22.5 million people – around a third of the population – have received their first dose.
Mr Johnson told MPs he was "proud" of the progress made, adding that the UK had also donated £548m to the Covax initiative, set up to distribute vaccines around the world.
The Gavi vaccines alliance, which co-runs the scheme, told the BBC this would pay for "more than 70 million" of the two billion doses expected to be given this year.
Mr Johnson said he wanted to "correct the suggestion from the European Council president that the UK has blocked vaccine exports", adding: "Let me be clear: we have not blocked the export of a single Covid-19 vaccine or vaccine components."
Mr Johnson said he was against "vaccine nationalism in all its forms" and called on all countries to "work together to tackle this pandemic".
In his weekly briefing note on Tuesday, Mr Michel said: "The United Kingdom and the United States have imposed an outright ban on the export of vaccines or vaccine components produced on their territory."
After the UK government insisted this was not true, Mr Michel tweeted that there were "different ways of imposing bans or restrictions on vaccines/medicines". But he did not elaborate on this.
At the European Commission's press briefing in Brussels, spokesman Eric Mamer declined to comment on Mr Michel's statements.
He added that Mr Johnson and Commission President Ursula von der Leyen had had a phone call "some time ago", during which he had "assured her the UK did not have any issue when it came to the delivery of vaccines to the European Union".
The EU was a "very, very active exporter of vaccines, and that is not necessarily the case of all our partners", Mr Mamer said.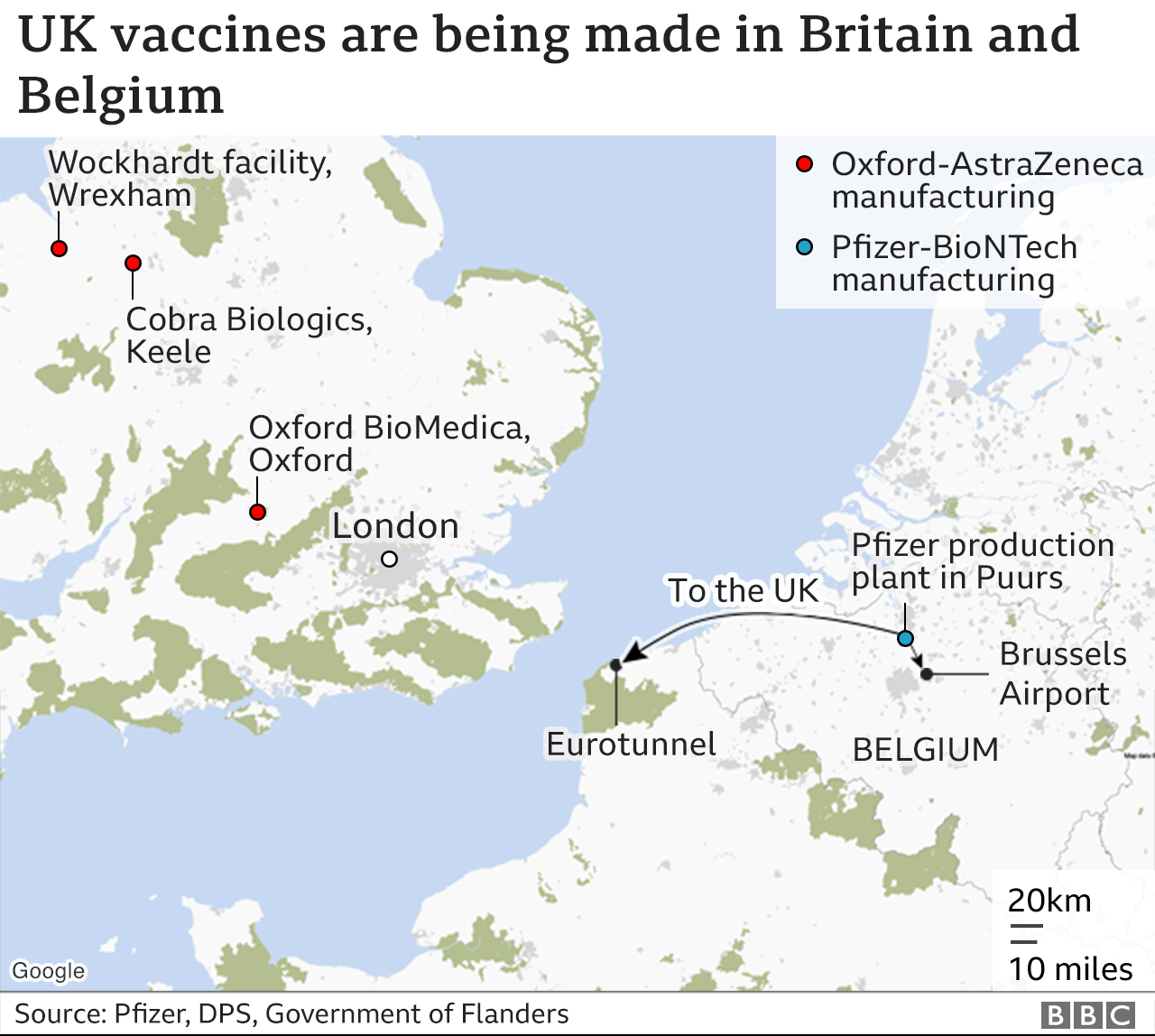 The EU has faced production problems with the Pfizer-BioNTech, Moderna and Oxford-AstraZeneca vaccines.
In January, it introduced a system of controls on exports, requiring manufacturers to seek permission from national governments for planned sales.
The EU also drafted regulations which would have overridden the Northern Ireland Protocol – agreed with the UK last year – potentially allowing it to stop vaccines bound for Northern Ireland.
Source: BBC