A minority of men in politics "behave like animals", Attorney General Suella Braverman has said, as female MPs share experiences of sexism and harassment.
Speaking to BBC's Woman's Hour, Ms Braverman said the problem started in wider society and there needed to be a discussion about "moral standards".
Her comments come as one minister accused a fellow Conservative MP of watching porn in the Commons chamber.
Ms Braverman said she was "ashamed" the MP "wore a Conservative rosette".
Ex-minister Baroness Nicky Morgan described the claim as "a jaw-dropper" and said: "If this happened in any other working place somebody would be sacked for gross misconduct."
However, she said the situation for MPs was different. "There are no employment contracts, nobody is going to take their job away from them – that gives MPs a feeling of invincibility."
The allegation that a Tory MP watched pornography in the Commons was made at a meeting on Tuesday night.
Chris Heaton-Harris – the government's chief whip – looked into the matter, but has now referred it to Parliament's Independent Complaints and Grievance Scheme (ICGS).
Liberal Democrat leader, Sir Ed Davey has urged the Conservatives to "get their act together" and "get rid" of the MP in question.
'Permissiveness'
Asked about the wider problem, Ms Braverman said she had never "been made to feel uncomfortable" during her time in Parliament, but there were some "bad apples".
She said: "My personal experience, I've been an MP for seven years, been in the Conservative Party and in politics for 20 years – on no occasion have I been made to feel uncomfortable and all the men I have worked with have been respectful.
"There is however a very small minority of men who fall short – and there are some bad apples who are out of order, who behave like animals and are bringing Parliament into disrepute."
She said it was a "worrying symptom" of a wider problem in society and said watching porn in public had become "normalised".
"We've got to look more profoundly at coarsening of behaviour in our culture and some of the mixed messages we are sending our children.
"On the one hand we have women saying 'it is my right to post photos of myself in underwear, it is empowering to pose naked online, don't be so prudish, don't curb my liberty' – and on other hand we are denouncing the permissiveness that is enabling that.
"We've got to take this moment to reflect on what we are doing to lower standards of behaviour."
Speaking to BBC Breakfast, Defence Secretary Ben Wallace said pornography in the workplace was "unacceptable" and that he hoped action would be taken if the claim was proven.
Asked about Parliament's working environment, he said: "The problem in the House of Commons is ultimately the overall culture of long hours, bars and people sometimes under pressure and after all of that, that can create a toxic mix that leads to all sorts of things."
Labour's Jess Phillips tweeted that "the culture in Westminster is an excuse oft used by perpetrators to get out of bad behaviour."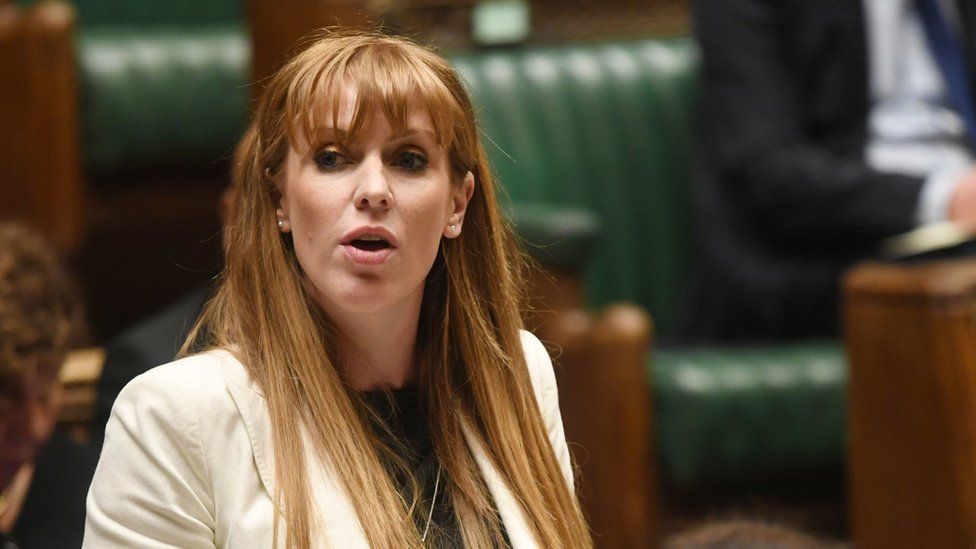 Their comments come amid renewed concern over misogyny in Parliament, as well as accusations of sexual harassment.
A Labour MP who wished to remain anonymous told the BBC a member of the shadow cabinet had described her as the party's "secret weapon" adding, in graphic language, that women want to be her friend and men want to sleep with her.
A Labour spokesperson said: "The Labour Party takes all complaints extremely seriously. They are fully investigated in line with our rules and procedures, and any appropriate action is taken."
Two SNP MPs – Patrick Grady and Patricia Gibson – are facing allegations of sexual harassment. The party has said individuals were entitled to have complaints dealt with confidentially and it would be inappropriate to comment further.
And earlier this week, politicians across the parties condemned a suggestion made in a newspaper that Labour's Angela Rayner tries to distract Boris Johnson in the Commons by crossing and uncrossing her legs.
On Wednesday, Green MP Caroline Lucas cited a report in The Sunday Times that said a total of 56 MPs, including three cabinet ministers, were facing allegations of sexual misconduct after being reported to the ICGS, and asked the prime minister whether such behaviour was grounds for dismissal under the ministerial code.
Mr Johnson replied that sexual harassment was "of course…grounds for dismissal".
The current complaints scheme – the ICGS – was set up in 2018 following complaints about how claims of sexual harassment by MPs were dealt with.
The new procedure removes MPs from the process of judging whether one of their colleagues had breached rules on bullying, harassment or sexual misconduct.
Under the process, an independent panel can recommend sanctions if an MP is found guilty. If it recommends suspending an MP from the Houses of Parliaments, this would need to be approved by MPs.
If an MP is suspended for at least 10 days, their constituents can demand a by-election through a recall petition.
Source: BBC