Russia has launched missiles at targets across Ukraine, from Kharkiv in the north to Odesa in the south and Zhytomyr in the west.
Buildings and infrastructure were hit in Kharkiv and Odesa, with power blackouts in several areas. Attacks on the capital Kyiv are also reported.
The electrical power supply at the Russian-controlled Zaporizhzhia nuclear power plant has also been lost.
It comes as bitter fighting continues for the eastern city of Bakhmut.
Emergency services in Kyiv are at the scenes of blasts in western and southern districts of the capital where the mayor, Vitaly Klitschko, said explosions had taken place.
Mr Klitschko said cars were burning in the courtyard of one residential building and he urged people to stay in shelters.
A mass missile attack struck an energy facility in the port city of Odesa, triggering power cuts, its governor Maksym Marchenko said. Residential areas were also hit but no casualties were reported, he added.
"About 15" strikes hit Kharkiv city and region, with "critical infrastructure facilities" and a residential building targeted, regional administration chief Oleg Synegubov said.
In western Ukraine, at least four people were killed in Lviv after a rocket hit their home, the region's governor Maksym Kozytskyi said on Telegram.
One person has died and two others were injured following drone and missile strikes in the Dnipropetrovsk region, according to governor Serhii Lysak.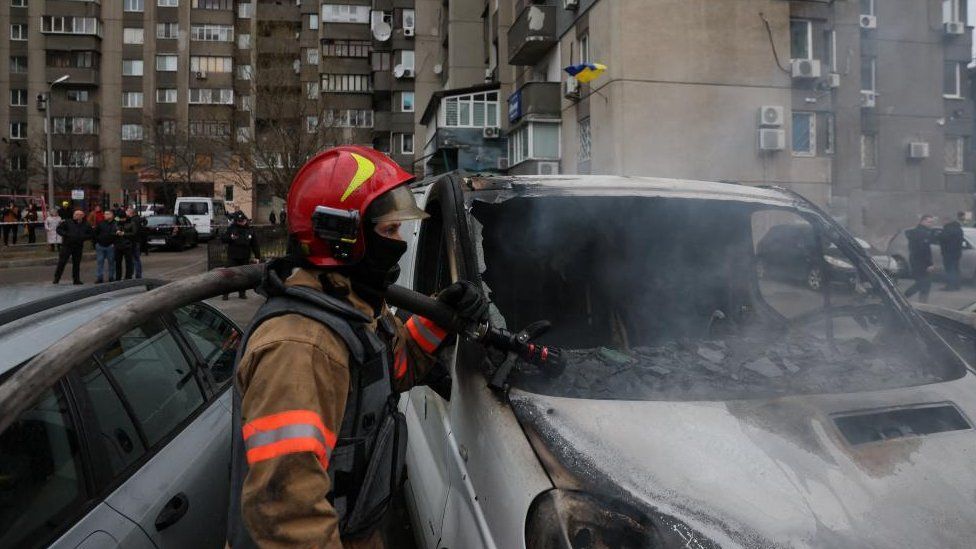 Nuclear energy operator Energoatom said a strike at the Zaporizhzhia plant, which is Europe's largest, meant the "last link" between the facility and the Ukrainian power system was cut off.
Russia-installed officials in the Moscow-controlled part of Ukraine's Zaporizhzhia region said the halt in electricity supplies to the power station from Ukrainian-held territory was "a provocation".
Other regions hit include Vynnytsia and Rivne in the west, and Dnipro and Poltava in the centre of the country.
The attacks mark the biggest day of Russian missile strikes on Ukraine since the end of January, when 11 people died after dozens of buildings were struck in several regions.
Russian President Vladimir Putin launched his invasion just over a year ago. Since then tens of thousands of combatants and civilians have been killed or injured and millions of Ukrainians became refugees.
The US Director of National Intelligence, Avril Haines, suggested on Wednesday that President Putin might be planning to drag out the war for years but that Russia was not strong enough to launch major new offensives this year.
She said the war in Ukraine had become a "grinding attritional war in which neither side has a definitive military advantage".
"We do not foresee the Russian military recovering enough this year to make major territorial gains, but Putin most likely calculates the time works in his favour, and that prolonging the war including with potential pauses in the fighting may be his best remaining pathway to eventually securing Russia's strategic interests in Ukraine, even if it takes years," she said.
Ms Haines said Russia might turn to defending the territories it now occupies, adding that it would need additional "mandatory mobilization and third-party ammunition sources" to sustain even its level of operations in Ukraine.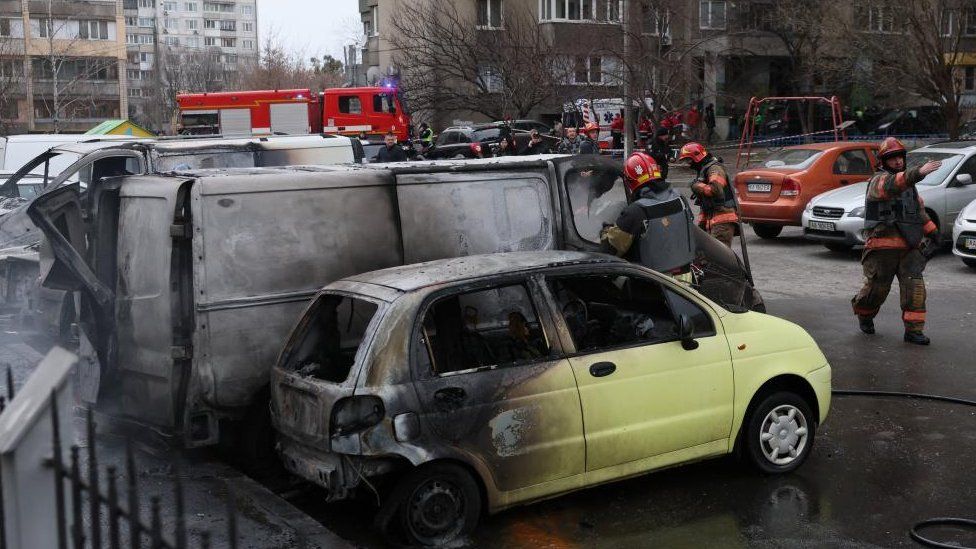 Ukraine's military says it has pushed back intense Russian attacks on the embattled eastern city of Bakhmut despite Russian forces claiming to have taken control of its eastern half.
Moscow has been trying to take Bakhmut for months, as both sides suffer heavy losses in a grinding war of attrition.
"The enemy continued its attacks and has shown no sign of a let-up in storming the city of Bakhmut," the general staff of the Ukrainian armed forces said. "Our defenders repelled attacks on Bakhmut and on surrounding communities."
Between 20,000 and 30,000 Russian troops have been killed or wounded in the battle for the Ukrainian city of Bakhmut since it began last summer, Western officials say. The figures cannot be verified independently.
Source: BBC