Colleagues of Silvio Berlusconi have expressed hope that Italy's former prime minister will return to frontline politics after he was rushed to intensive care with breathing problems.
Health bulletins describe his condition as "stable and alert" and reports say he is being treated for a form of leukaemia, a cancer of the blood.
A four-time prime minister and media mogul, Mr Berlusconi still leads his party and is an elected senator.
But his health has suffered.
He had heart surgery in 2016 and then contracted pneumonia in 2020 after catching Covid-19. He has since been treated in hospital on several occasions.
"We want to be optimistic" said Antonio Tajani, Italy's foreign minister and one of the most senior figures in Mr Berlusconi's Forza Italia party.
Mr Berlusconi, 86. was admitted to intensive care in the cardiac unit at San Raffaele hospital in Milan on Wednesday, only six days after he was discharged following four days of check-ups.
Mr Tajani told reporters his party leader had an "unresolved problem". Forza Italia is a junior member of Italy's right-wing government under Giorgia Meloni.
Hospital sources told Ansa news agency that he was having intensive therapy to improve his blood oxygenation, and Ansa later reported that the former prime minister had begun chemotherapy to treat a form of leukaemia, a cancer of the blood cells.
"He's stable. He's a rock. he's going to make this time too." said Paolo Berlusconi, the ex-prime minister's younger brother, after visiting him in San Raffaele hospital in Milan.
His return to hospital has caused concern in Italy and politicians from across the spectrum have wished him well. Prime Minister Giorgia Meloni has wished him a speedy recovery, tweeting the words "Forza Silvio" – "Come on Silvio!", echoing the name of his political party.
His fiancee Marta Fascina, who is an MP in his party, spent the night with him in the hospital and his children visited him on Thursday for a second time.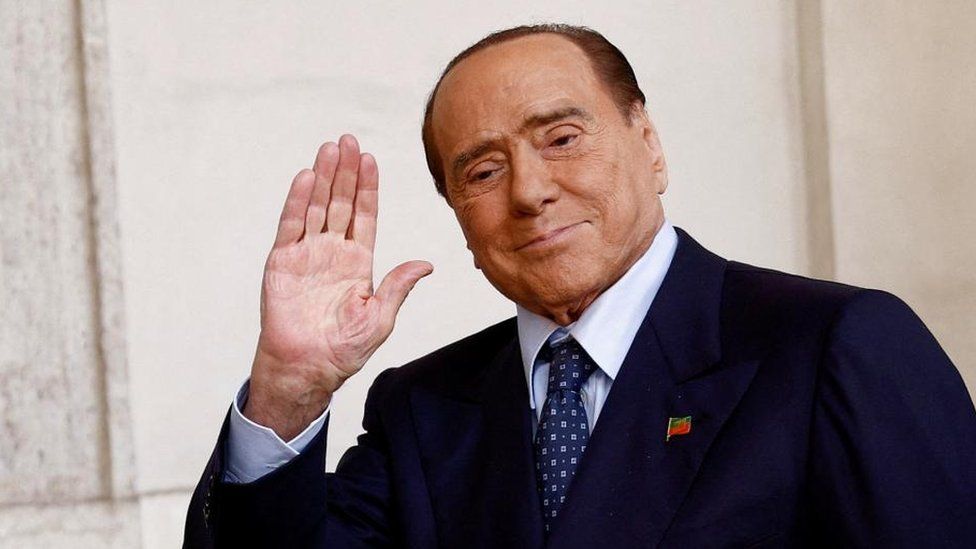 Forza Italia officials said their leader had spoken on Thursday morning to party figures including Mr Tajani and Maurizio Gasparri, vice president of the Senate.
Mr Berlusconi remains a divisive figure in Italian politics. Earlier this year, he was finally cleared of bribing young showgirls to lie about his notoriously raunchy "bunga bunga" parties.
However, both left-leaning and right-leaning newspapers have paid tribute to the charismatic, yet controversial, politician and media tycoon.
Several newspapers have wished him well, while others have highlighted the potential impact of his illness on the country's political landscape.
"Everyone with Silvio" was the main headline in Il Giornale, which belongs to the Berlusconi family, expressing its support and solidarity.
Like the prime minister, Libero, another right-leaning newspaper, opted for "Forza Silvio", while La Repubblica called him the "fearless Knight". The centre-left daily has for decades strongly criticised his political actions and extensively covered the repeated scandals surrounding Mr Berlusconi.
Although his entourage has downplayed the seriousness of his condition, his illness has raised questions about the future of his political party.
Although it is part of the ruling coalition, Forza Italia has been in decline in recent years, and his poor health may further weaken its position. When Mr Tajani spoke to reporters, he said there was only one party leader: "Now let's hope he returns to lead the party."
It has also revived questions about the future of the Berlusconi business empire, which includes several television channels and publishing companies, making him one of the most influential media moguls in Italy.
His family also owns a minority stake in football club AC Monza, which has climbed from the third tier of Italian football to Serie A during his five-year ownership.
"Warm wishes, dear president, from the whole big red-and-white family," tweeted club president Adriano Galliani.
Source: BBC