More than 40 people have died – most of them in Algeria – in the Mediterranean wildfires threatening villages and holiday resorts, and thousands have been evacuated.
Greece is preparing for more evacuation flights from Rhodes, as fires also rage on the islands of Corfu and Evia.
The current long heatwave shows no let-up – temperatures are expected to rise above 44C (111F) in parts of Greece.
Fires spreading in Sicily forced Italy to briefly close Palermo airport.
High winds and tinder-dry vegetation mean firefighters are struggling in many areas to douse the flames and create firebreaks.
The heaviest death toll so far is in Algeria, where the 34 victims included 10 soldiers surrounded by flames during an evacuation in the coastal province of Bejaia, east of Algiers. Bejaia is the worst-hit area, accounting for 23 of the deaths, local media report.
The Algerian authorities said 80% of the blazes had been put out since Sunday, but a massive firefighting effort continues, involving about 8,000 personnel, hundreds of fire trucks and some aircraft.
Fires have also raged in neighbouring Tunisia, where 300 people had to be evacuated from the coastal village of Melloula.
In Greece, the Civil Protection Ministry warned of an "extreme danger" of fire in six of the country's 13 regions on Wednesday.
A team of climate scientists – the World Weather Attribution group – said this month's intense heatwave in Southern Europe, North America and China would have been virtually impossible without human-induced climate change.
On the island of Rhodes more than 20,000 people have been evacuated from homes and resorts in the south in recent days. An airport official told AFP news agency that more than 5,000 had flown home on more than 40 emergency flights between Sunday and Tuesday.
Holiday firms Jet2 and Tui have cancelled departures for Rhodes for the coming days.
Tourism accounts for one in five jobs in Greece, and the industry is vital for Rhodes and many other islands. The UK Foreign Office has not advised against travel to the affected parts of Greece, but has urged tourists to check with tour operators for updates.
On the island of Evia, just north of Athens, two pilots died when their Canadair firefighting plane crashed into a ravine. Elsewhere on the island a man's charred body was found in a remote rural shack.
Thousands of people have also been evacuated on Evia and Corfu, while Crete – another major holiday destination – is on high alert.
Italy has been hit by contrasting extreme weather events – with storms in the north and wildfires in Sicily and several more southern regions.
A couple in their 70s were found dead in a fire-gutted house near Palermo, an 88-year-old woman also died near the city and a fourth fire victim – a man aged 98 – was found in Calabria, just east of Sicily.
The storms in the north meanwhile claimed two lives on Tuesday – victims of falling trees.
A wildfire in the Foggia region, on Italy's Adriatic coast, forced the evacuation of 2,000 people from three hotels, Italy's Rai news reports. The blaze approached Vieste from a nearby national park.
"We are experiencing in Italy one of the most complicated days in recent decades – rainstorms, tornadoes and giant hail in the north, and scorching heat and devastating fires in the centre and south," said Civil Protection Minister Nello Musumeci.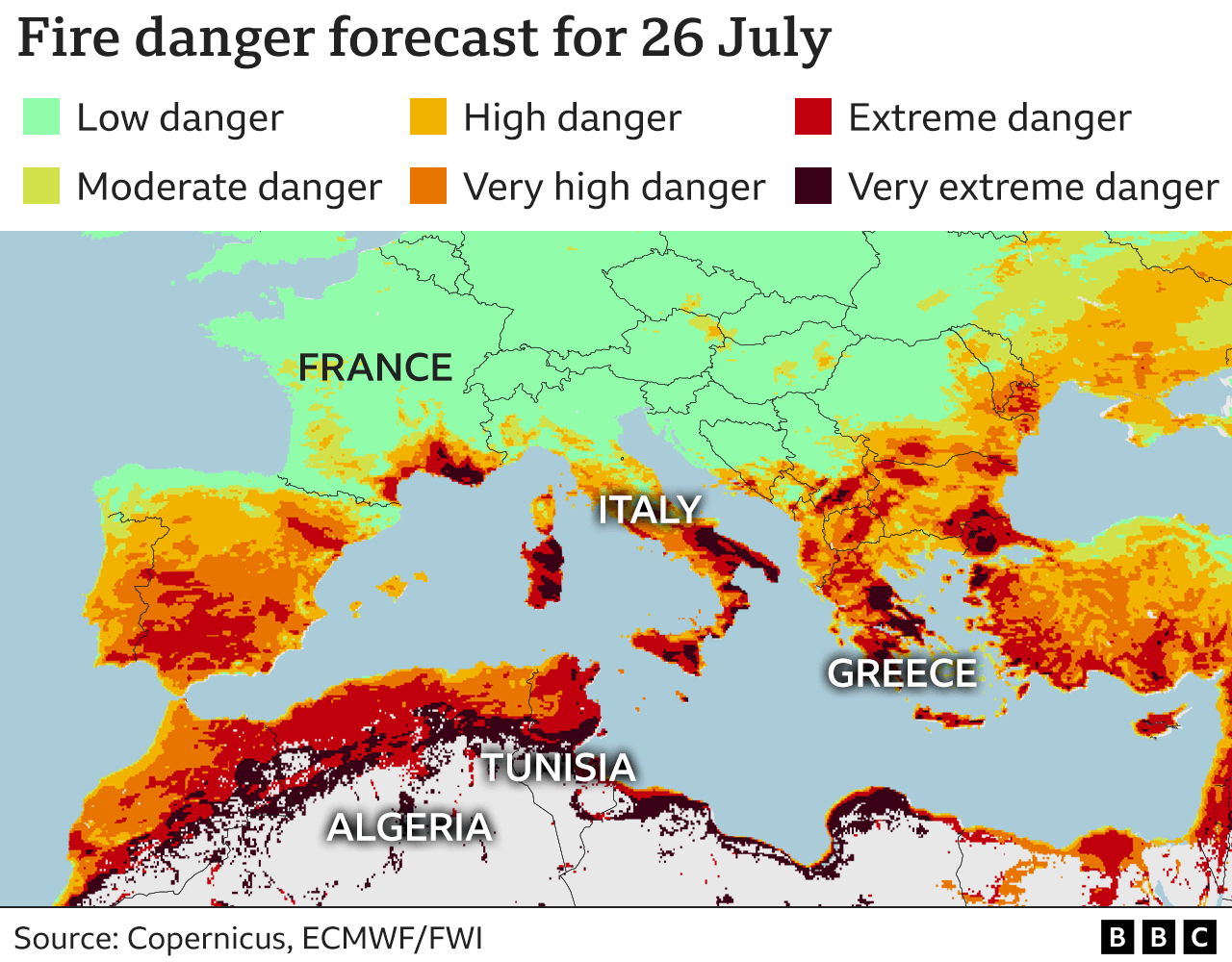 Source: BBC