The leader of Gabon's military junta has vowed to return power to civilians after "free, transparent" elections.
However, in a speech after being sworn in as interim president, he did not give any date.
Brice Nguema led last Wednesday's coup against Ali Bongo, toppling the president shortly after he was named winner of a disputed election.
Crowds of cheering civilians turned up at the inauguration – the coup was welcomed by many eager for change.
However, some say Gen Nguema's rule will be a continuation of the 55-year Bongo dynasty.
Ali Bongo's father, Omar, was in power for 41 years before he died in 2009 and was succeeded by his son.
The general spent most his career in the Bongo's inner circle and is even thought to be Ali Bongo's cousin.
There was also a military parade at the event at the presidential palace in the capital, Libreville.
Former ministers from the ousted government also showed up, but were booed by a crowd of junta sympathisers.
The inauguration is the latest in a series of military takeovers across West and Central Africa.
Gabon is the sixth Francophone country to fall under military rule in the last three years as former colonial power France struggles to maintain its influence on the continent.
Gabon been suspended from the African Union following the coup, which has been condemned by the UN and France.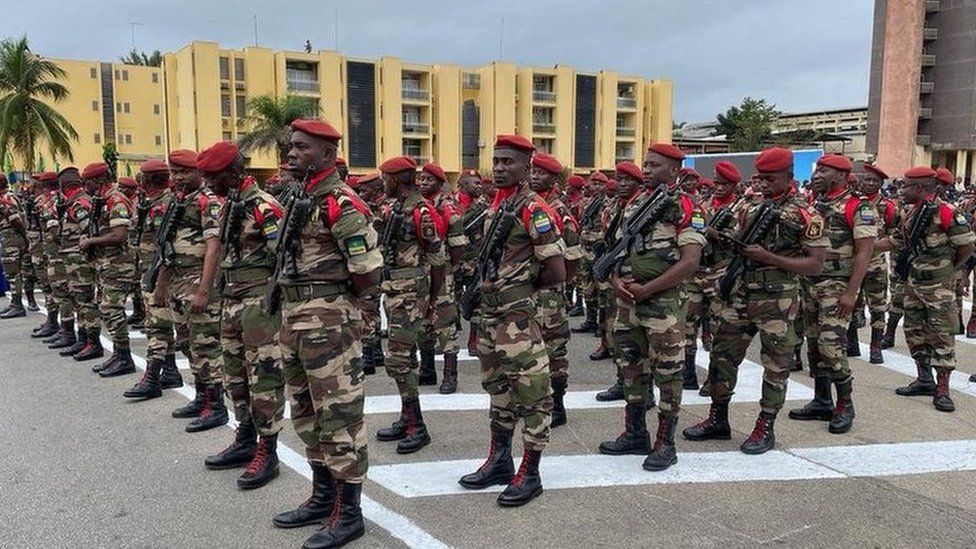 Source: BBC