An explosion at a fuel depot in Nagorno-Karabakh has killed 20 people and injured hundreds more, local ethnic-Armenian authorities say.
Nearly 300 people were admitted to hospitals, with dozens of them reported to be in a critical condition.
It comes as the Armenian government said more than 28,000 refugees had crossed into the country since local forces surrendered to Azerbaijan.
The disputed region is home to some 120,000 ethnic Armenians.
It is not yet clear what caused the explosion on Monday evening near the main city of Khankendi, known as Stepanakert by Armenians.
Petrol stations have been overwhelmed as thousands try to leave the region, which was already suffering from a fuel shortage following a months-long blockade.
The only road connecting Armenia to the enclave remains backed up with hundreds of cars and buses, filled with ethnic Armenians trying to reach the town of Goris across the border.
The winding mountain road from Goris to Armenia's capital, Yerevan, has also been heavy with traffic from well before dawn.
A BBC team saw families crammed into cars, boots overflowing and roof-racks piled high with belongings. Convinced they are leaving their homes for good, people are squeezing as much of their lives as possible into their vehicles.
Inside Goris, a small town that is the same dusty brown as the jagged mountains that surround it, the narrow streets are filled with more cars and more families. One has arrived in a car held together with little more than sticking tape, its side badly dented and dotted with shrapnel holes, and windows smashed.
The owner tells the BBC it was hit by mortar fire when Azerbaijan launched a lightning assault to take control of the region last week. "But it still got us here," he smiles, surrounded by small children.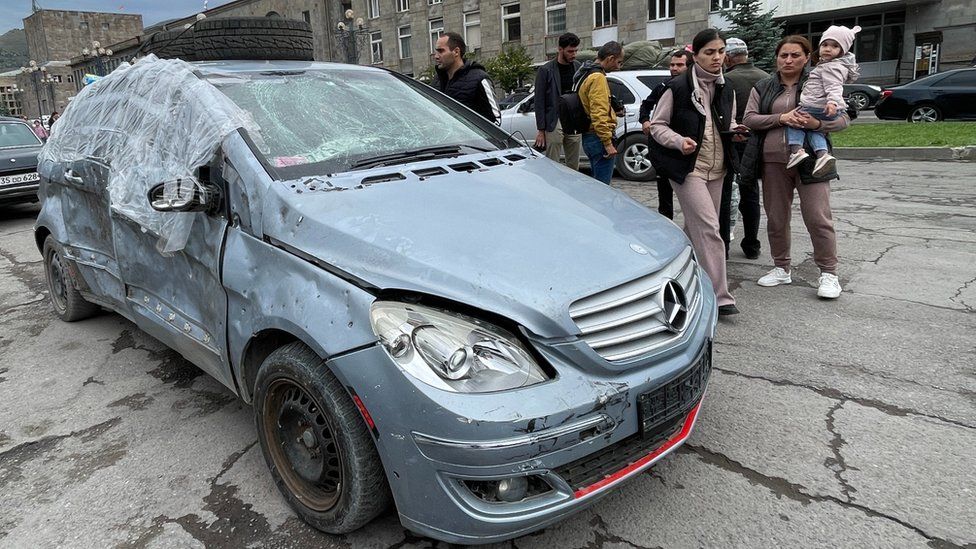 On the main town square, people mill around unsure what to do next. Volunteers hand out some basic food and blankets.
Evacuees are registered and there is the occasional bus to move people on to another town or village. But few seem to have a plan, beyond getting this far.
Malina left her husband's grave behind in their village. He died soon after the six-week war that broke out in 2020, the most recent violence before this month.
She says his nerves gave out. She keeps an eye on four grandchildren playing nearby as we speak. They think this trip is temporary, that they will eventually go home like last time, and Malina does not want to upset them yet with the truth.
For two days last week, they all huddled in their cellar as their village was under fire. After the Karabakh forces surrendered, Malina says the local authorities told everyone to leave for Armenia, for safety. Their village in the Martakert region of Nagorno-Karabakh is now empty.
Malina says her family left because – whatever the assurances – they would not feel safe under Azerbaijani rule.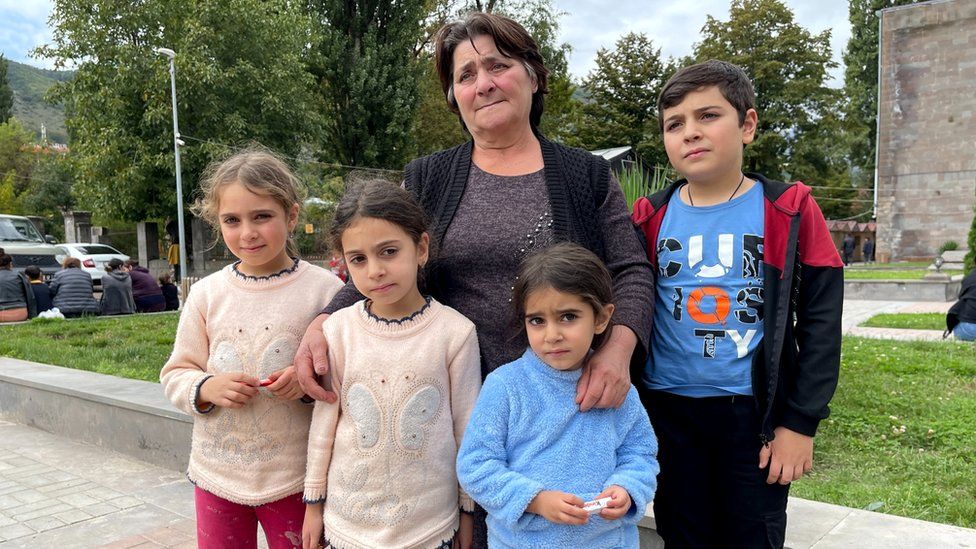 Despite Azerbaijan's public reassurances, there are fears about the residents of Nagorno-Karabakh, with only one aid delivery of 70 tonnes of food having been allowed through since separatists accepted a ceasefire and agreed to disarm.
Azerbaijan announced that another aid convoy, with 40 tonnes of flour and badly-needed hygiene products, was on its way to the enclave.
Ethnic-Armenian leaders say thousands are without food or shelter and sleeping in basements, school buildings or outside.
In a statement on Tuesday, local officials said doctors were working in "difficult and cramped conditions" to save the lives of those injured in the fuel depot explosion, adding that hospitals were treating 290 patients with various degrees of burns.
They said 13 unidentified bodies were found at the scene of the explosion and seven more died in hospital.
Human Rights Ombudsman Gegham Stepanyan wrote on social media: "The health condition of the majority is severe or extremely severe. The medical capacities of Nagorno-Karabakh are not enough."
The Armenian health ministry said it was sending helicopters to evacuate patients from the region's strained hospitals. Azerbaijan also said it had sent medical supplies.
Armenia's Prime Minister Nikol Pashinyan has said that ethnic cleansing is "under way" in the region.
"That's happening just now, and that is [a] very unfortunate fact, because we were trying to urge international community on that," Nikol Pashinyan told reporters.
But Azerbaijan has said it wants to re-integrate the ethnic Armenians as "equal citizens".
The head of the US Agency for International Development, Samantha Power, called on Azerbaijan "to maintain the ceasefire and take concrete steps to protect the rights of civilians in Nagorno-Karabakh".
She said the international community should to be given access to the region and announced $11.5m (£9.5m) of US aid to assist those fleeing.
Envoys from Armenia and Azerbaijan met in Brussels for European Union-backed talks.
It was the first time diplomatic talks have been held between the two countries since Azerbaijan seized the enclave last week.
Azerbaijan has also started separate negotiations with Karabakh's ethnic-Armenian authorities about the region's future.
Nagorno-Karabakh – a mountainous region in the South Caucasus – is recognised internationally as part of Azerbaijan, but has been controlled by ethnic Armenians for three decades.
The enclave has been supported by Armenia – but also by its ally, Russia, which has had a peacekeeping mission there for the past three years.
Five Russian peacekeepers were killed – alongside at least 200 ethnic Armenians and dozens of Azerbaijani soldiers – as Azerbaijan's army swept in last week.
On Sunday, Azerbaijan's defence ministry said it had confiscated more military equipment, including a large number of rockets, artillery shells, mines and ammunition.
Armenia-Azerbaijan: Nagorno-Karabakh map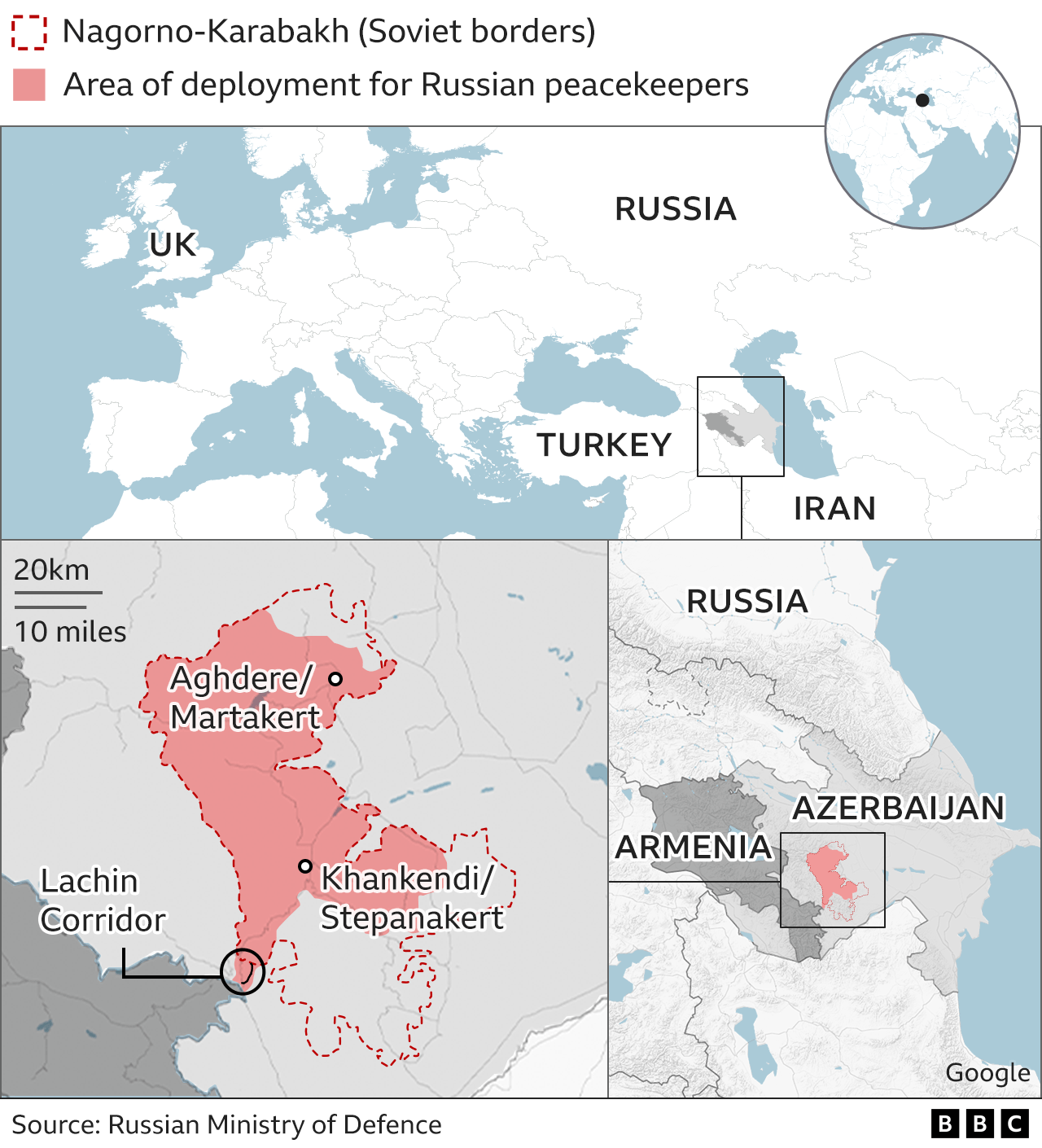 Source:BBC