The UK is ready to escalate sanctions against Russia in the event of a full invasion of Ukraine, the foreign secretary has said.
Liz Truss defended criticisms of measures announced by the government on Tuesday, describing them as "severe".
She said it was important to keep further sanctions "in the locker".
Russian President Vladimir Putin has ordered troops to be sent into two Ukrainian regions held by Russian-backed separatists.
On Tuesday Prime Minister Boris Johnson announced sanctions against Russia in response, with five banks having their assets frozen, along with those of three Russian billionaires – who will also be hit with UK travel bans.
But a number of MPs, including some Conservatives, have called for tougher measures, with shadow foreign secretary David Lammy saying the "mood of the entire House of Commons was that the government wasn't being strong enough".
Downing Street will hold a summit later with finance chiefs and regulators to discuss how to make sanctions effective.
It is also anticipated that Mr Johnson will outline more military support for Ukraine later today.
'Turning up the heat'
Speaking to BBC Breakfast, Ms Truss said the sanctions were the most severe the UK had ever placed on Russia.
"The sanctions we're putting in place are coordinated with the United States, they're coordinated with Europe, to make sure that Vladimir Putin cannot play divide and rule amongst the allies.
"We've shown we are united and we will escalate those sanctions in the event of a full invasion into Ukraine."
She also defended donations made by Russians to the Conservative Party, saying every donation had to be fully declared and donors were required to be on the electoral register.
Ms Truss said: "I think we've got to be very careful to distinguish between those who are supporters of the regime, those who are propping up Vladimir Putin and those people who may have moved from Russia years ago and who are part of the British political system."
Ms Truss was shown a picture from May 2019 which showed her, former prime minister Theresa May and other cabinet ministers at the time with Lubov Chernukhin, the wife of a former Russian minister who has been financially linked to people who were close to the Kremlin.
Mrs Chernukhin has been one of the Conservative Party's biggest donors. Her lawyers say the donations are not tainted by Kremlin influence.
Asked if she was embarrassed by the picture, Ms Truss said "no, I'm not".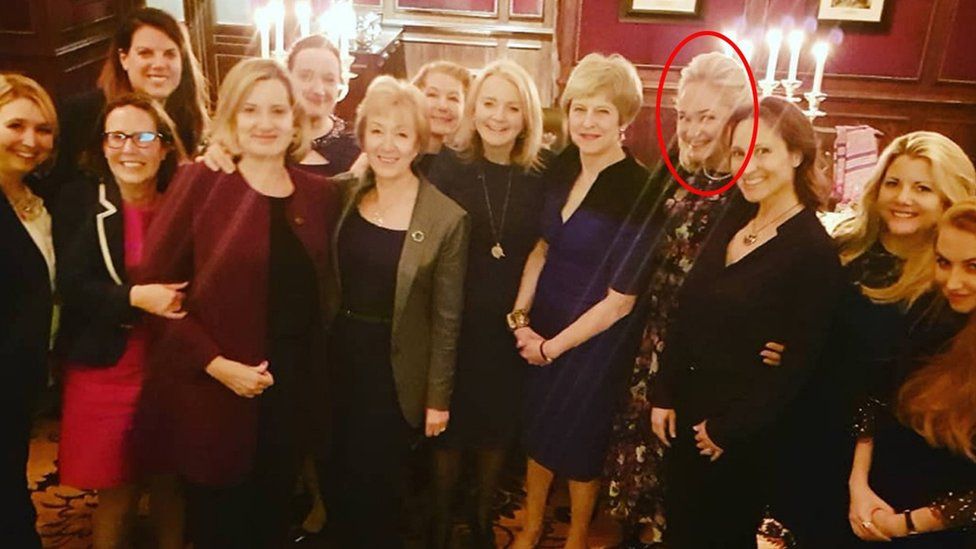 The foreign secretary said the government would target "without prejudice" anybody who is helping "prop up Vladimir Putin's appalling regime".
She also reiterated comments made by Mr Johnson that football's Champions League final should no longer be held in St Petersburg.
"I think it is wrong at this stage with what Russia is doing internationally to have the final there," Ms Truss said.
Ms Truss told BBC Radio 4's Today programme she believed Mr Putin was "hell-bent on invading Ukraine" and that this was a long-standing plan.
Source: BBC