Royalties from live performances of music fell almost 30% in 2021, despite concerts resuming in the summer.
Concert revenues were just £8m, down from £11.3m in 2020 and £54m in 2019, said PRS for Music, the body that collects royalties for songwriters.
Only 19,300 setlists were reported last year, it added, marking a huge decline from the 124,000 reported pre-pandemic.
"It's a huge decrease," said CEO Andrea Martin, "but we will see a bounce back this year."
She said there was "renewed optimism" in the sector, with more than 240 major tours planned for the UK this year.
Acts like Dua Lipa, Little Mix and Stormzy are already on the road, while stadium shows by Harry Styles, Elton John, The Rolling Stones and Adele are planned for the summer.
However, Martin said, revenues are not expected to reach pre-pandemic levels until 2023.
Despite struggles in the live sector, PRS had a good year, collecting £777.1m in royalties – only slightly down on the pre-pandemic figure of £810m.
"I'm very excited and proud of these results because they show that the music industry is very resilient," said CEO Andrea Martin. "It really shows that music connects and engages people and that we can bounce back."
The company said it processed 27 trillion "performances" of music last year, including streams, downloads, radio and TV broadcasts, as well as music played in pubs, clubs, hairdressers and concert venues.
UK songwriters contributed to many of the year's most-played hits, including Ed Sheeran's Bad Habits, Dua Lipa's Levitating and Glass Animals' Heat Waves.
The popularity of those songs, and others like Adele's Easy On Me, meant that streaming services like Spotify and Apple Music generated £225.5m in royalties – up 45% from two years ago.
A new deal with TikTok also ensured artists would get royalties when their songs were used on the platform.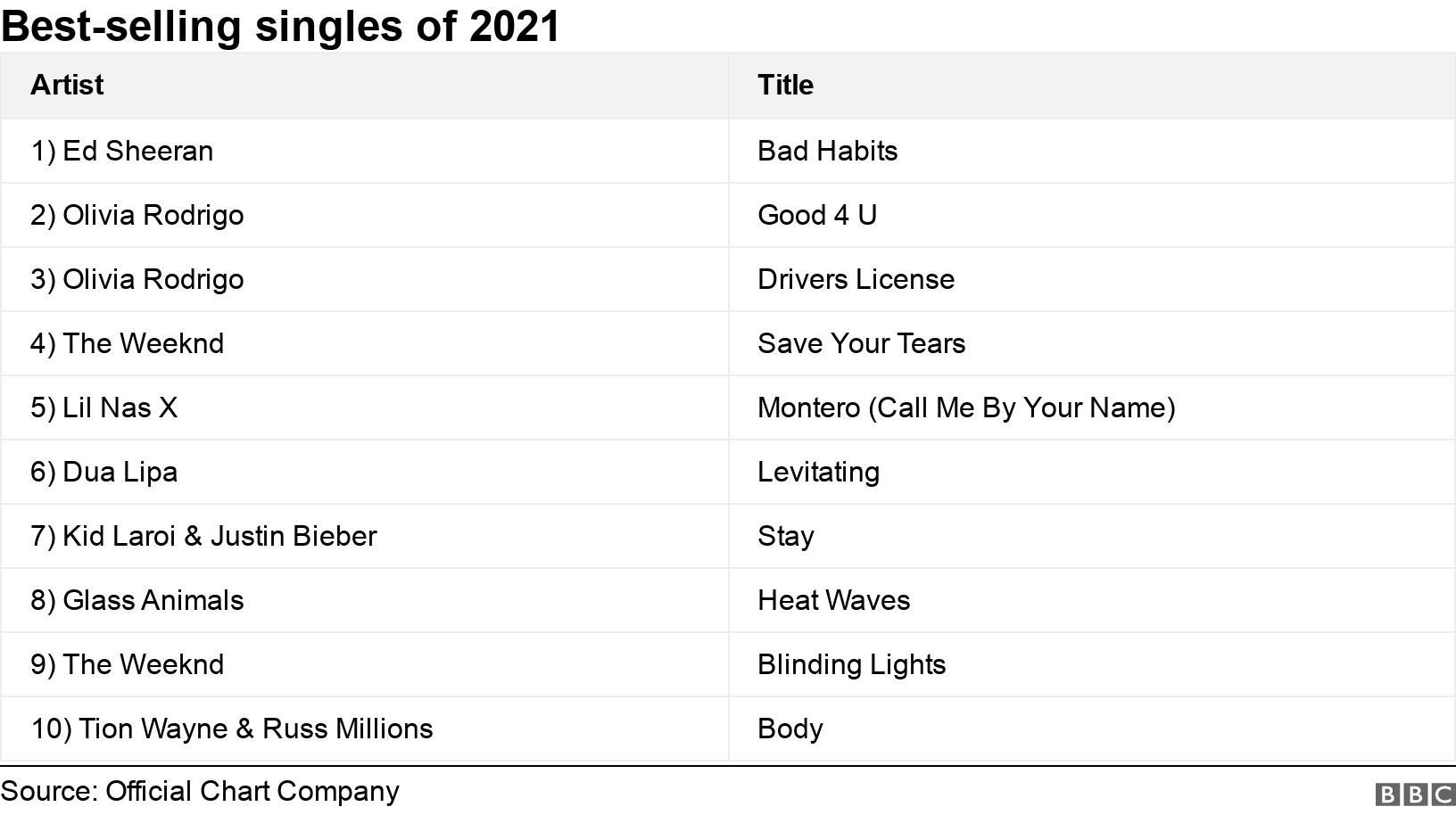 The money generated from music featured on video-on-demand services like Netflix also doubled to £34.5m, as royalties from new services like Disney+ and Apple TV started to arrive.
Public performance revenue – which includes the music played in shops, hotels, restaurants and nightclubs – also went up.
However, PRS paid its members less (£677.2m) than in 2020 (£699.4m).
Martin said this was due to the inherent "lag" in receiving royalties from abroad, which meant that the effects of 2020's downturn were only now being reflected in international payments.
Source: BBC